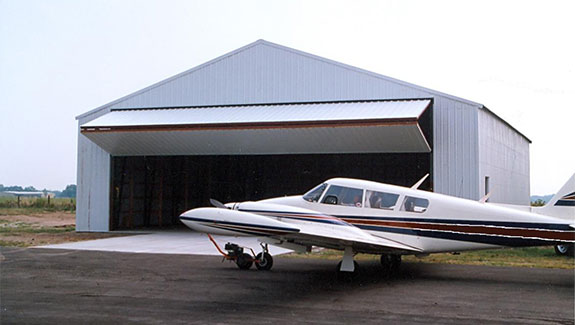 Adams Truss Steel and Metal Building Kits is the place to go for all your steel hangar construction kits. We know the gratifying sense of accomplishment that comes from building your own hangar. We can make all your hangar construction dreams become a reality.
It can be frustrating finding a place to build a steel hangar that meets all your needs. When you construct your own hangar with our do it yourself steel hangar construction kit, you know you're guaranteed to have a quality product. We pride ourselves on creating one of a kind steel hangar construction kits for our customers. We offer excellent consulting, customer pricing and can administer our products nationwide.
Adams Truss Steel and Metal Building Kits knows that you have options when it comes to steel truss providers and that's why we want you to choose us. With affordable rates and an honest team, you will get the most out of your money with us. While other companies are simply looking for a profit we are invested in you as a customer. We have a great selection of DIY steel hangar construction kits all reasonably priced. When it comes to building your own steel hanger you shouldn't let your budget get in the way of your construction dreams.
Whether you want to build a small steel hangar or a large and complex design we have just what you're looking for. We've been providing the community with top notch products since 1955. When you are searching for a dependable place to take care of you, we're the ones to call. Along with offering exceptional products we also provide our customers with personalized support. We are here to help with all your questions and concerns you may have about steel hangar construction kits. When you need assistance with any of your construction kits we want to be the ones you reach out to.
Adams Truss Steel and Metal Building Kits is the best place to go for steel hangar developers and professionals looking to construct buildings on their own. There are many beneficial aspects of overseeing your own creation and being in control of your own construction. With our kits, it will be easy for you to make your own steel hangar kit in a matter of no time.
We pride ourselves in taking care of our customers and offering them the best rates possible. With years of experience under our belt, Adams Truss Steel and Metal Building Kits is the trusted company you are looking for. It is our privilege to work at providing our customers with the best products in the industry. You shouldn't have to stress about searching for a reliable company to provide you with your own steel hangar construction kit. We are the place to go for all your steel hangar construction kit needs in Gentry, AR, the entire state of Arkansas, and anywhere throughout Missouri, Mississippi, and Oklahoma. Contact us today to learn more about our building kits for hangars, detached garages, steel barns, and beyond